Band heaters with Muscovite isolation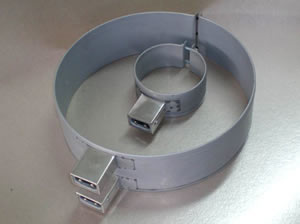 They are used for heating the extruders, presses, nozzles and various tools in the processing of plastic, rubber and for other industrial applications. Basic materials: Insulation material Micanite (MICA) produced by the Belgian company "Cogebi", resistant wire of the Swedish company "Kanthal" and alloy steel sheet, aluminized and corrosion protected by phosphating. Production of customized connector versions is negotiable. Tightening of the belt is done by using the M-5 or M-6 bolts. The sensor connector is realized as a bridge with an R 3/8 thread, or other thread types by order.
Technical data:
Specific power: up to 3.5 W/cm2
Maximum operating temperature: up to 360Cº
Ceramic band heaters
Used for heating cylinders and tools on machines for processing of plastics, which require high operating temperatures. Ceramic insulation is characterized by very high insulation value, high quality, high thermal durability and durability. Connection of the heater can be custom made.
Possible shape varieties, other than belt, include plate and angle.
Technical data:
Specific power: up to 8 W/cm2
Maximum operating temperature: up to 600Cº
gives off significantly less heat to ambient, high insulation value
Plate heaters
They are made for heating tools and nozzles used in the plastics industry. Structural implementation of the network connection, by appointment.
Technical data:
Specific power: up to 3.5 W/cm2
Maximum operating temperature: up to 360C

Cartridge heaters
Cartridge heaters, up to 5 W/cm2 produced according to classical charging technologies, and if the requirement is higher, from 5-30 W/cm2, we use imported high performance cartridges. Thanks to the special filling technology and forging of the heater where the presence of oxygen is eliminated and density of material increased (high density magnesium oxide), a much higher thermal conductivity (heat dissipation) is achieved. Heaters are ordered by product catalogue, which is standardized in accordance with the CE EN-60335 standards.

Hot nozzle heaters
Heaters for hot nozzles are one of the products delivered in cooperation with foreign manufacturers, "Ivaldi" France, "T & H" Germany, "HOT-SET" Italy, "Watt Maxi" Spain... Heaters are in a flat shape prior to installation so that the diameter and length of the heater can be adapted to the exact needs of a specific request.
In addition to installing the heaters and sensors on new nozzles, we also perform repairs of old nozzles where we replace the heater and the thermal sensor.